Escucha ya la playlist de la BSO de EA Sports FC 24 en Spotify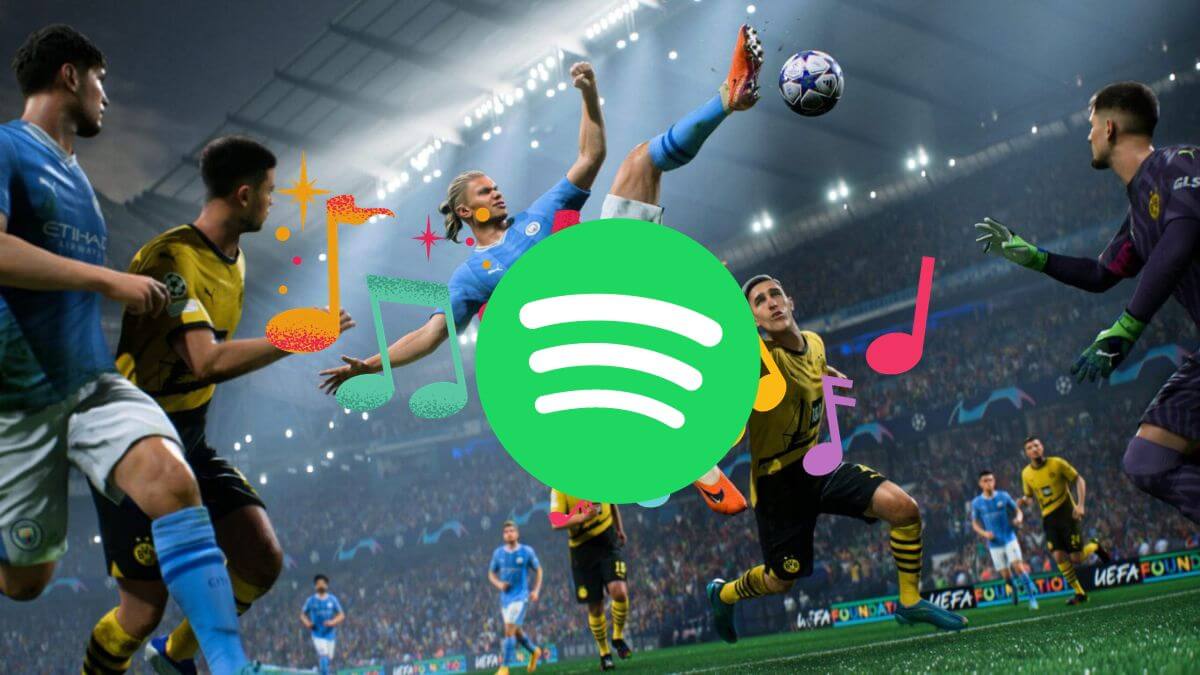 EA Sports FC 24 estará disponible en tan solo 8 días tanto en PC como en consolas, y a partir de mañana para aquellos que hayan obtenido el acceso anticipado comprando la Ultimate Edition. Sin embargo, si quieres ir preparándote para el gran lanzamiento, ya puedes escuchar la playlist del juego en Spotify.
Desde Karol G hasta Young Franco, pasando por The Rolling Stones, esta alineación de canciones está a la altura del nuevo título de EA Sports.
A continuación puedes revisar la lista completa con las 85 canciones de la banda sonora original de EA Sports FC 24:
Gus Dapperton - The Stranger
The Blaze - LONELY
The Rolling Stone - Angry
Sid Sriram - The Hard Way
POLICE CAR COLLECTIVE, Cole Bleu - EYELIDS
The Last Dinner Party - Nothing Matters
M83 - Amnesia
Overmono - Good Lies
Jack Harlow - They Don't Love It
Baby Queen - We Can Be Anything
Awitch, Tsubaki, OZworld, CHICO CARLITO - RASEN in OKINAWA
Ninho, Central Cee - Eurostar (feat. Central Cee)
Zack Bia, 347aidan, Lil Yachty - One of Those Days (feat. Lil Yachty & with 347aidan)
MEDUZA, Sam Tompkins, Em Beihold - Phone
Lovejoy - Portrait of a Blank State
Royel Otis - Going Kokomo
Winston Surfshirt, Young Franco - Complicated (feat. Young Franco)
Myke Towers - LALA
KAROL G - BICHOTAG
Jeshi, Obongjayar, WESTSIDE BOOGIE - Protein v2
Smino, Doechii, Fatman Scoop - Pro Freak (with Doechii, Fatman Scoop)
Romy - The Sea
Bree Runway - THAT GIRL
Hava, Dardan - Killa
Miss Grit - Follow the Cyborg
Stormzy - Longevity Flow
DROELOE, IMANU - CATALYST
King Krule - Seaforth
Yaeji - For Granted
ODESZA, Yellow House - Heavier
Snakeships, Tkay Maidza - She Me The Money (feat. Tkay Maidza)
ILLAMAN, Pitch 92, PAV4N - Absolutely Tidy
Effy, Flowdan - Stone
swim school - BORED
Major Lazer, Major League Djz, Brenda Fassie - Magobhozi
Matata, Liam Bailey - Not Today
Baby Keen, Kendrick Lamar - The Hillbillies
English Teacher - The World's Biggest Paving Slab
Skrillex, Fred again..., Flowdan - Rumble
Mandy, Indiana - Pinking Shears
Bas, J. Cole - Passport Bros (with J. Cole)
The Blessed Madonna, Jacob Lusk, Gabriels - Mercy (feat. Jacob Lusk)
Ashnikko - Worms
Dumb Buoys Fishing Club, Merly Wood, joe unknown - FORMULA
Freq Motif, Magugu - Tings My Way
ILLAMAN, Pitch 92, PAV4N - Absolutely Tidy
SLUMBERJACK, The Kite String Tangle - Paradox
Higgo, mustbejohn - I Just Wanna Dance
Fliptrix - So Clear
Ternion Sound, PAV4N, Strategy, Hypho - Relentless
DRS, Duskee, Disrupta - Waiting To Go
La Fine Equipe, Gael Faye - Pemmican
Killer Mike, El-P, thankugoodsir - DON'T LET THE DEVIL (feat. thankugoodsir)
Halogenix, Sparkz - Sekkle In
piri, Tommy Villiers - nice 2 me
Jords, Jordan Mackampa - FIRST IN THE SKY (feat. Jordan Mackampa)
Bianca Oblivion, Eliza Legzdina - EZ 4 Me
Run The Jewels, Baco Exu do Blues, Trooko - fuera de vista (feat. Baco Exu Do Blues)
Shakes - Better Than I?
Disrupta - Dreaming Of You
Willo,, niina - i've got a bf (best friend)
WALKER. - TOMMY
2hollis - poster boy
salute - Wait For It
Channel Tres - 6am
Ezekiel - there she goes
Gardna, Unglued - R.A.V.E.A.S.A.P (Unglued Remix)
KayCyy - Who Else Would It Be
Frost Children - FLATLINE
whenyoung - Gan Ainm
BABY MALA - 1,2 & Mer
Hak Baker - DOOLALLY
Charlotte Devaney - My Way
Doktor, Serum, Angent Sasco (Assassin) - Why You Waiting?
Charli Brix, Visages, DRS - I Can't Stay
ARIETE - AVVISO
Zakes Bantwini, Kasango, Bruno Be, Ralk - Osama - Bruno Be, Ralk Rework
Skinny Local, Cartel Madras - MMM
ill peach - HOLD ON
Sam Gellaitry, Jengi - Assumptions - Jengi Remix
Belters Only, Micky Modella, Simone Denny - Superstar
blackwave., Lute - cracked screen
IMANU, Tudor, Machinedrum - Haunt My Mind - Machinedrum Remix
Souls Of Creation, Bobbie Johnson - I Go Get It
Kaleena Zanders, Shift K3Y - V I B R A T I O N
Para escucharla, no tienes más que acceder al siguiente enlace de Spotify:
Web: Playlist de EA Sports FC 24 en Spotify
Como puedes ver, la playlist incluye todo tipo de géneros musicales para contentar a casi cualquier jugador de EA Sports FC 24, el primer título que ya no llevará el "formato FIFA". A su vez, su competidor, eFootball 2024, ya se puede descargar de manera gratuita.
Dónde comprar PlayStation 5: tiendas con stock en septiembre 2023